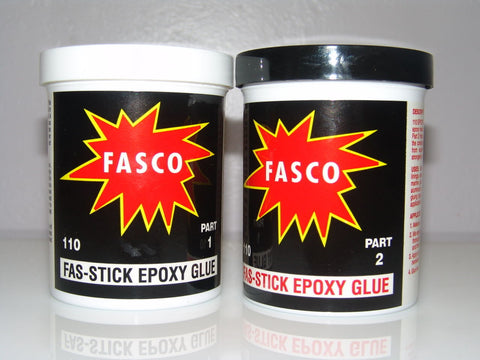 Fasco 110 Fas-Stick Epoxy Glue kit
Fasco 110 Epoxy Glue is a two part putty type glue with an epoxy resin base. The Part 1 Resin is milky white. The Part 2 Hardener is amber. Both components are about the consistency of vaseline. The glue which results from equally mixing the two components is the strongest yet developed by science. 
Uses:
Body repair sealant

Bonding trim

Brake linings

Repairing gas tanks

Gluing plastic parts

Tough marine glue joints 

Cabinet shops

Gluing glass to aluminum

Assembly and repair fiberglass products and composites

Gluing together foam products and many other glue application
This item qualifies for FREE SHIPPING in the lower 48 States with tracking number.
Thanks for visiting Epoxy World 
---
We Also Recommend